Happy Halloween!
Can't stop listening to this entire album lately, very fitting considering the current holiday.
I'm pretty biased since
The Maine
is my favorite band, but seriously this song is the best, you should totally check it out (the entire album too!)
Little monsters walking down my street
In this place I'll be anything but me
So you be brave and I'll still be eighteen
My posts on the blog have been lacking lately, but this month was filled with multiple math tests (I still don't understand why we need to figure out problems with imaginary numbers, seriously?!) and midterms.
I also was accepted into my very first art show! It's in the beginning of December and I need to get around twenty pieces ready... I have a ways to go! So my posts may be a little art centered in November, but I'm trying to squeeze some reading in between equations and painting!
I
still
am reading
Spell Bound (Hex Hall 3)
by Rachel Hawkins. I started it in September and keep going "Oh! I'm definitely going to read a couple chapters tonight!" Then I end up watching
America's Next Top Model
. It's a guilty pleasure, I don't get the appeal either, but it's oh so addicting. Although I really need to stop watching it before bed, unless I want to keep dreaming of
America's Next Top Bookshelf
. A grueling competition of beautiful bookshelves jammed packed with all the books anyone could imagine. I didn't win, someone girl with a loose bun and big glasses named Pepper did. My shelves out in the woods guarded by fairies and the dreamy Captain Hook (okay I've been watching lots of
Once Upon A Time
too...) just couldn't compete with the hipster girl's fancy color coded, Beauty and the Beast-esque library. I was totally bummed that Tyra didn't think my bookshelf was
fierce!
Yeah, after that I definitely think returning to reading will be for the best. I can't deal with anymore "Is that character on your book cover smizing?" dreams. Anyways...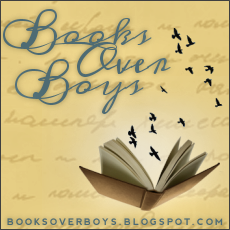 I'd totally love it if you checked out my guest post over on the amazing Momo's blog,
Books Over Boys
. You can
click here
to check it out! It's Momo's three year blogoversary and she's having one
epic
giveaway too! She's seriously one of the sweetest people ever, I'm so happy to call her a friend!
I hope your day is filled with treats, jack-o-lanterns and everything spooky!