For those of you who don't know I am a first year home schooler who's a senior in high school. If you are thinking to yourself "uhh isn't that a problem since you are the most easily distracted person in the universe?" Well to answer your question yes, this is a problem. Especially when I see an animated image while surfing the internet and think to myself, "WOW I'd rather be doing that than working on stupid school." So this is what happens when it's rainy outside, I have schoolwork and am an obsessed blogger.
I present to you:
10 Things I Could Be Doing Instead of Schoolwork...
Playing my rad air guitar
Making funny faces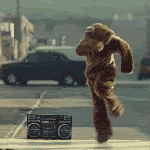 Dancing in a bear costume on a street corner
Smacking myself silly
Doing aerobics
Hanging out with the Backstreet Boys
Riding in a car with trekies
Staring at a brick wall.
Having a butterfly land on me (I'm scared of butterflies... seriously)
So instead of doing anyone of these groovy things I'm stuck in my room finding X thanks to some middle-aged man back in the day who couldn't find anything better to do with his time (probably because A) blogger wasn't around or B) they didn't have .gif images) So once again thank you balding man for making me find hypotenuses, X's and learning iambic pentameter which causes me to talk like a fool for the next 24 hours because I'm stressing and un-stressing all the words that come out of my mouth. Now back to work. Joy...
Wednesday's Obsession will be posted this evening.
*Note: Hi Mom, I totally slaved over all of my school work and think Mr. Hypotenuse is a genius and I thank him for all of his wonderful musings. I was completely kidding up there.